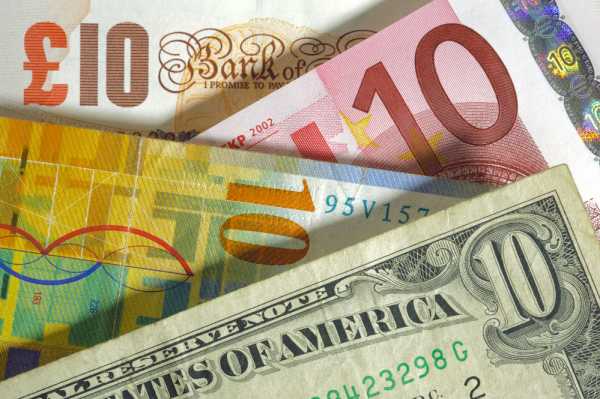 EUR/USD:
Monthly timeframe:
(Technical change on this timeframe is often limited though serves as guidance to potential longer-term moves)
February has witnessed a healthy floor of bids emerge around the 1.1950 neighbourhood, consequently stirring a hammer formation (though we will not know this until the month concludes).
Downstream, 1.1857/1.1352 represents demand, while northbound shines light on ascending resistance (prior support – 1.1641).
In terms of trend, the primary uptrend has been in play since price broke the 1.1714 high (Aug 2015) in July 2017.
Daily timeframe:
Up by 0.6 percent, EUR/USD bulls wrapped up the week on the front foot. Earlier action witnessed the pair extend recovery gains north of demand at 1.1923/1.2001—an area housing support at 1.1965 (previous Quasimodo resistance).
As you can see, Friday settled off worst levels (shaped by way of a hammer candle pattern), suggesting bulls could grow in confidence this week and approach 1.2190 tops, shadowed by Quasimodo resistance from 1.2278.
RSI fans will note the value ended the week engaging with the 50.00 centreline, which happens to share space with two converging trendline resistances (yellow box).
H4 timeframe:
Quasimodo resistance at 1.2142—aligning with a 78.6% Fib level at 1.2138 and a 50.0% retracement at 1.2149—remains centre of attention on the H4 scale, withstanding two upside attempts last week. Space north of here may call for resistance at 1.2179, with subsequent buying to possibly take aim at another resistance plotted at 1.2214.
As you can see, Friday also discovered a healthy pocket of bids from swing support recognised at 1.2087, leaving 1.2075 support unchallenged.
H1 timeframe:
Mid-way through London Friday observed buyers attempt to arrange a defence off 1.21 psychological support, with price movement even establishing a hammer candle pattern—a formation generally viewed as a bullish signal. However, heading into US hours, the majority of buyers were squeezed out of the market as the pair whipsawed to lows ahead of demand at 1.2078/1.2062. This has stop-run written all over it.
Quasimodo resistance at 1.2142 noted on the H4 scale remains a prominent fixture on the H1 timeframe. Taking on higher levels this week may see buyers push beyond what appears to be a consumed H1 Quasimodo resistance at 1.2173 to pursue 1.22 resistance.
47.05/54.20 continues to serve as support and resistance out of the RSI indicator, an area in play since the beginning of February.
Observed levels:
Long term:
Both monthly and daily timeframes ended last week off worst levels, in the shape of a hammer pattern—movement often interpreted as a bullish cue.
By the same token, both charts demonstrate room to scale higher this week, targeting 1.2190 tops on the daily chart.
Short term:
H4 Quasimodo resistance at 1.2142, despite blending closely with Fib studies, has failed to invite selling beneath local H4 support at 1.2087. The non-committal tone from sellers, along with H1 reclaiming 1.21+ status Friday, places a question mark on the H4 Quasimodo formation.
According to chart studies, therefore, this week favours buyers until around the 1.22 neighbourhood.