More than 356,000 updated 2021 real estate assessments are available online and are being mailed to all property owners. Based on equalization changes (market-driven value increases or decreases for your home), countywide residential real estate assessments are up an average of 4.25%, with the average assessment for all homes at $607,752. In 2020, the countywide average home assessment was $582,976.
Despite the pandemic, housing prices increased in most areas of the county because of record low interest rates and low inventory. However, commercial real estate — especially restaurants, retail and hotels — declined in value due to increases in vacancies, collection loss, and overall market risk.
88% of Home Values Are Up
Of the total number of residential properties, 88% increased in value due to what's called equalization which are market-driven increases or decreases to values. Only 4.4% saw a decrease in value, and assessments are unchanged for the remaining 7.6%.
The breakdown of average home assessments (averages are not necessarily indicative of individual properties or neighborhoods):
Single family detached homes – $725,327, up 4.17%
Townhouse /duplex properties – $460,526, up 5.13%
Condominiums – $304,877, up 4.62%
Meanwhile, nonresidential real estate values (commercial, industrial and rental apartments) values dropped by 4.05% on average.
Overall, of the 356,171 taxable parcels in Fairfax County:
326,263 have an assessment change.
29,908 have no assessment change.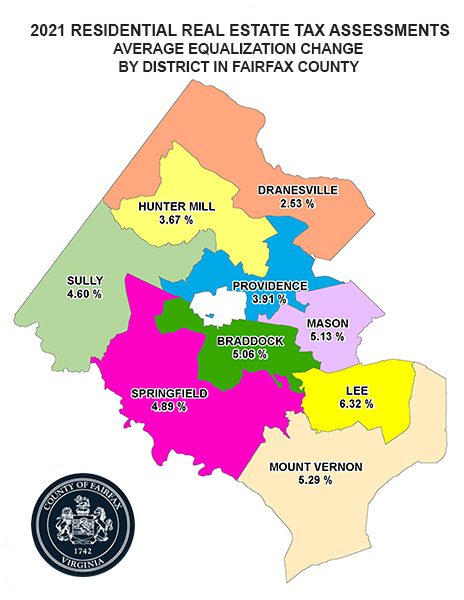 Why Your Assessment May Have Changed
There are several factors that affect real estate assessments:
Sales in the neighborhood.
Economic factors such as average number of days homes have been for sale and sales volume.
Improvements to the property (remodeling, additions).
New construction and rezonings.
Property characteristics (such as size, age, condition and amenities).