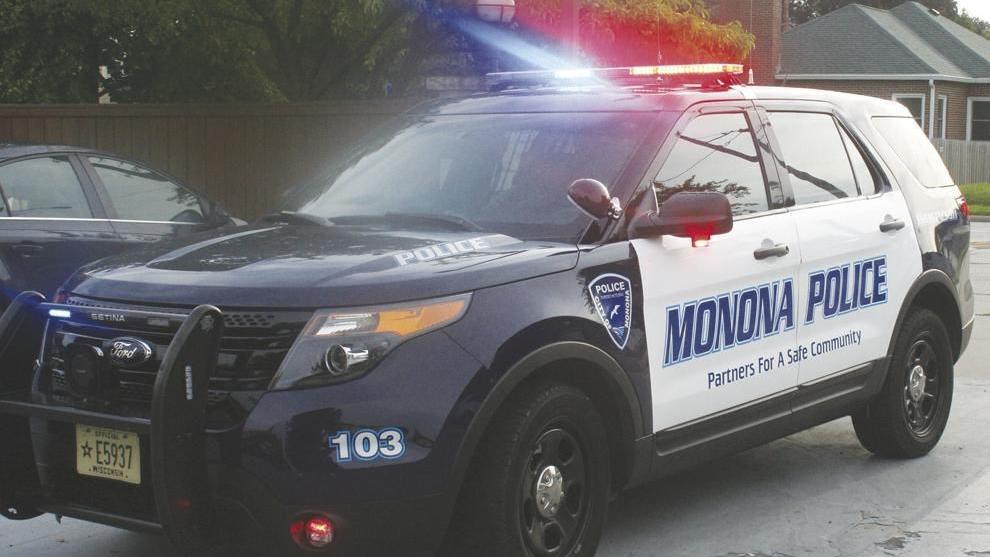 The Monona Police and Fire Commission has rescinded a conditional offer of employment to a potential police officer after members of the public spoke up to oppose the hire.
On March 24, the Police and Fire Commission (PFC) voted to extend a conditional offer of employment to Sam Yanke. On Wednesday, the PFC unanimously voted to rescind that offer.
Members of the public spoke at Wednesday's meeting to protest Yanke's hiring after an online petition brought attention to several controversial incidents earlier in his career, including a Sept. 26, 2018 incident in which he was videotaped pulling a 37-year-old woman from the driver's seat of a car by the back of her neck during a traffic stop.
At the time, Yanke was working for the Poynette Police Department. He resigned on Oct. 3, 2018, about 10 months after he was hired by the department, according to a report in the Lodi Enterprise/Poynette Press. According to Monona Interim Police Chief Sara Deuman, Yanke currently works for the Town of Madison Police Department.
PFC members Jeffrey Simmons said PFC members had not seen the video of the incident before making an offer to Yanke.
"We didn't know about the video and I'm frankly livid about that. It's clearly a flaw in our process and I'm mad at myself for not catching it, but we're going to make some changes to make sure we catch this stuff, because it's just unacceptable," Simmons said. "Regardless of what the outcome would be, that's the kind of information we need to know when we're making a decision, and you can't dispute that."
However, PFC President Steve Brezinski said that while commission members had not seen the video, they did know about the incident. He described Yanke as "forthcoming" about what had happened.
Deuman said the Monona Police Department was aware of the video before a conditional offer of employment was made, but couldn't elaborate further on what went into the decision to make Yanke a job offer.
The PFC returned from a closed session just after 9:20 p.m. on Wednesday, during which they discussed the conditional offer of employment and candidates for the city's open police chief position. Before the closed session, the commission heard the public's concerns.
Six people spoke at Wednesday's meeting to oppose the hire, with multiple community members making comments that "Monona deserves better." Clint Keaveny, who organized a petition to oppose the hire that had garnered 242 signatures as of Thursday morning, also read some of the comments made on the petition website.
"Based on the public record of this candidate's multiple interactions of excessive force, this candidate clearly is not the right fit for Monona," Sally Buffat said in wrapping up her public appearance. "Monona desperately needs good officers. Now more than ever, we need people in uniform to represent and to build rapport with the public."
Keaveny said he feels this "reveals some serious flaws in the process," adding, "the fact that it got this far is disappointing."
However, he was happy to see the outcome of the meeting.
"I'm really happy they did the right thing," he said after the meeting. "Individuals and institutions make mistakes, and the real test of their character is what they do when they realize they made a mistake. In this instance, the Police and Fire Commission did the right thing…"
Keaveny and Mark Buffat, another person to speak up at Wednesday's meeting, said that the decision to make Yanke a job offer raises some questions of Deuman, who has been named one of four finalists for the permanent police chief role.
"That's not a good match for who we are in Monona and where we're going," Mark Buffat said of Yanke's potential employment in the city. "It just causes me to question a little bit the interim chief's judgement and leadership in offering this position…"
Deuman told the PFC at its March meeting that 10 applications had been received for the job. After reducing the field to six, four had taken other positions and declined to move forward with the process, and "after the internal police process, only one candidate [was] acceptable for an interview with the PFC," according to meeting minutes.
Brezinski said Wednesday that recruitment for police officers is open right now, but as of recently, only four applications had been received.
Deuman said part of the problem is that the city of Monona currently requires all officers to have already gone through the police academy, whereas other municipalities will sponsor potential officers to go through the academy. It's a significant cost and there's no guarantee that each recruit will pass the academy, she said.