As with the vast majority of major cryptos, the MANA price has suffered a complete meltdown. After reaching an impressive high of $2.20 in early May, the Decentraland price crashed to the $0.44 mark on 27 June but it is now in recovery mode. This represents a 75% decline from its mid-May high but some green appears to be sprouting up.
As we've seen with Dogecoin and other cryptos, a tweet can cause the price to shoot up or crash down. It's only a matter of time before celebrities start bragging about the Decentraland plots and this should certainly create huge interest.
The MANA price is currently trading between the $0.55 and $0.57 levels which represents an 11% increase from its July 20 price of $0.50. Even better, the Decentraland price is up by almost 20% from the June 27 low of $0.44 and there are indicators that Decentraland is on the up.
If you haven't bought any cryptocurrency yet, this How To Buy Cryptocurrency Beginners Guide would be a good place to start.
Short Term Prediction For MANA Price: Further Consolidation Before Uptrend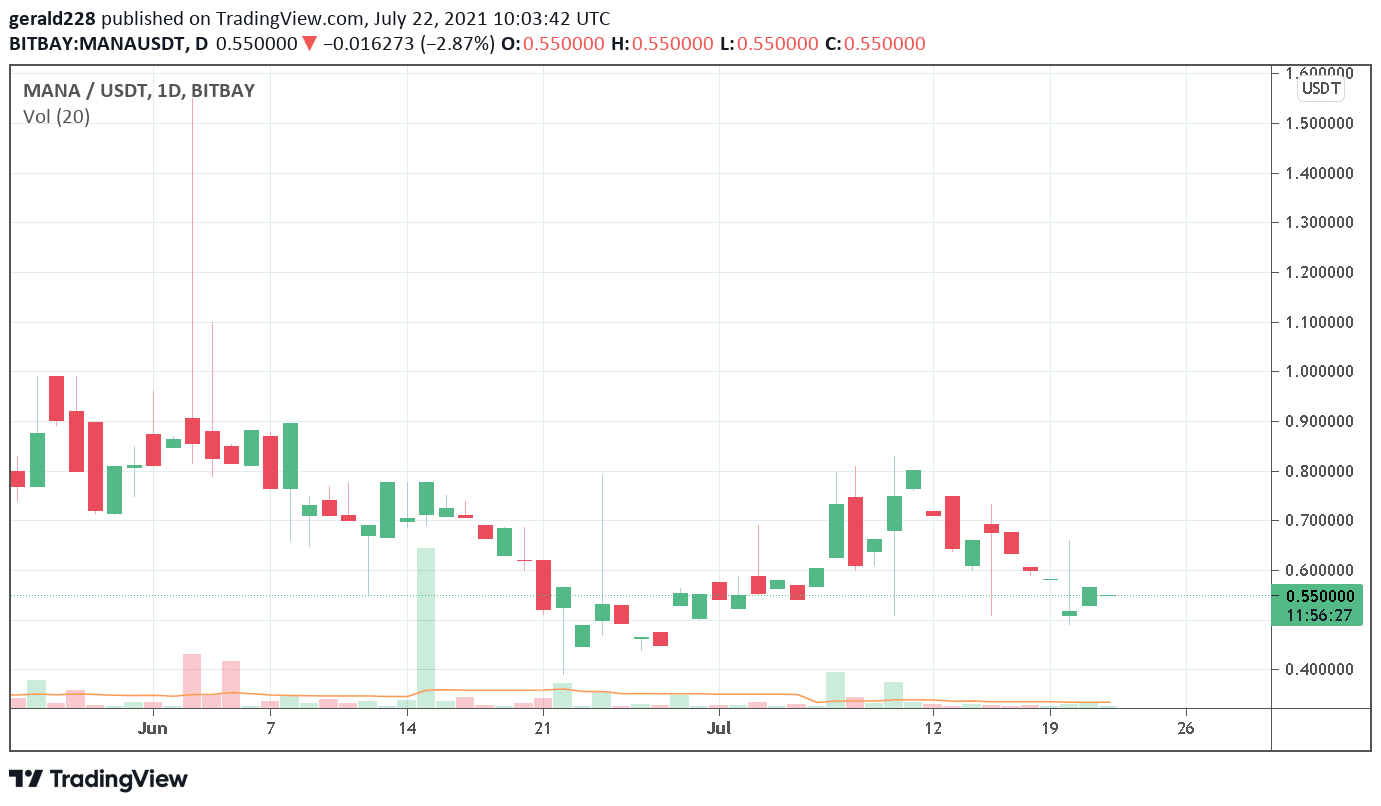 After having sunk to levels last seen exactly a year ago, the MANA price does seem to be making a recovery of sorts. A bullish thesis would be another 10% rise to the $0.60 level where it would retest the 17 July price. The next level of resistance for MANA would be the $0.65 level of 13 July whilst further bullish sentiment could take it up all the way to test the $0.80 mark which would represent a 40% increase from the current price.
The $0.80 level was last seen on 11 July so the MANA price descent has been swift and brutal. If the $0.57 daily close holds, then we could see further upswings but as always, a bearish thesis could be in play. If this happens, then expect the MANA price to reverse all its recent gains and once again test the $0.50 level. Selling pressure would then trigger a collapse to the $0.44 resistance level or the June 27 low.
If you haven't bought some cryptocurrency, have a look at these Best Cryptocurrency Brokers to get more information.
Decentraland Long Term: Is $1 achievable soon?
Although the Decentraland price is still a far cry from where it was in early May, predictions are still bullish long term. Some have MANA at the $1 level by the end of September while others are predicting a jump to the $1.50 mark by the end of the year.
Much depends on the ongoing state of the crypto market though.
MANA (Decentraland) has a good use case and with the DeFi market showing considerable potential, the only way has to be up.
Get the 5 most predictable currency pairs