The MANA price has recovered substantially since its fall on July 20 and is around 28% up from that level as of today. As with the vast majority of other cryptos, Decentraland had a heavy fall from its all time high in late April/early May where it even toughed the $1.50 mark. Although it is around 80% down from that ATH, there is still considerable potential for recovery.
Although there have been some stutters along the way, it does appear that the Decentraland price should be continuing its bullish momentum. A combination of strong buying interest and general positivity swirling around the crypto market should mean that a good boost is on the cards.
If you haven't yet bought some MANA (Decentraland) then this How To Buy Cryptocurrency Beginners Guide would be a good place to start.
Short Term Forecast For MANA price: Revisiting the $0.90 level?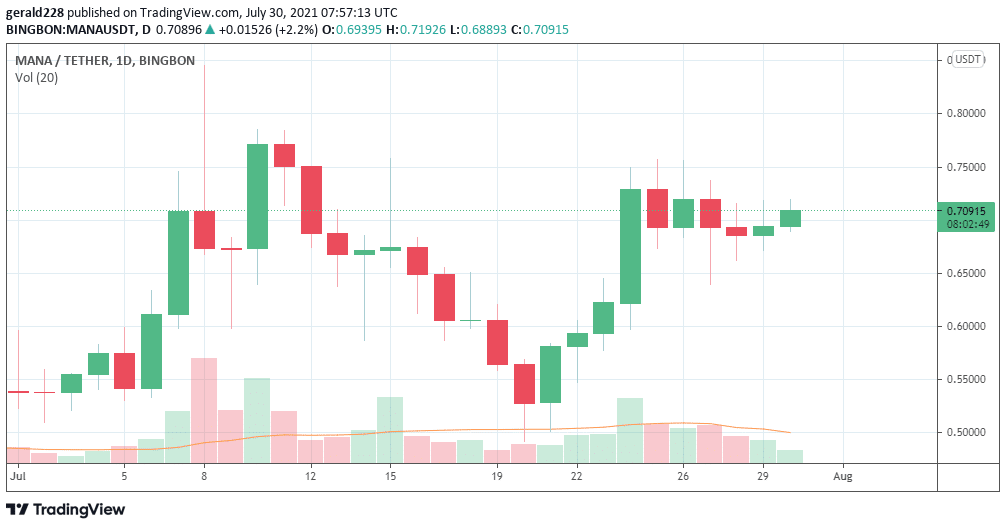 After having sunk to the $0.53 level on June 20, the MANA price had a substantial run to close at the $0.73 level on 24 July. It has been playing around between the $0.71 and $0.72 level since with little movement either way. However, price movement seems to be turning towards the upside as MANA continues to set higher lows as a springboard forward.
A bullish thesis would have the Decentraland price attack the $0.75 resistance level which seems the next logical point. If that is broken, then the price could move all the way up to the $0.85 mark where an assault on the $0.90 level could become a distinct possibility.
Alternatively, a bearish thesis would see the MANA price slice through the $0.70 level and fall to at least the next level of support at $0.59. Selling pressure could then exacerbate the drop and the price could revisit the July 20 low of $0.52. However, with the current bullish trend in the market, that looks unlikely.
If you haven't started trading any cryptocurrency, then have a look at these Top Cryptocurrency Brokers.
Long Term Forecast For Decentraland: When Is The $1.50 mark achievable
At present, the MANA price is around 60% off its all time high registered in early May. The crash and decline have been quite brutal but there do seem to be the green shoots of a recovery all over the market. Decentraland is no exception.
Some forecasters have the MANA price at the $1 level by the end of the year while others are more bullish with predictions topping the $1.50 level. All this depends upon the overall direction of the crypto market. There do seem to be many positive indicators in that direction though.
Looking to buy or trade MANA now? Invest at eToro!
Capital at risk
Get the 5 most predictable currency pairs