As predicted previously by this website, the Ethereum price has taken a bearish stance and has continued to drop over the past 24 hours. ETH is currently trading at the $1880 mark after having ceded the $2000 level yesterday.
It is now expected to fall further and the next line of support seems to be the $1700 mark. If you haven't bought some Ethereum then you should investigate this How To Buy Cryptocurrency Beginners Guide.
The Ethereum price usually moves in tandem with Bitcoin and this is also suffering constant bearish pressure. After having reached the $4500 mark in early May, Ethereum is now down more than 50% from that level and does not look like recovering anytime soon.
However, there could be a reversal of fortunes if the $1700 level holds and ETH will bounce back from that level.
Ethereum Price Short Term Forecast: Further Losses Before A Recovery?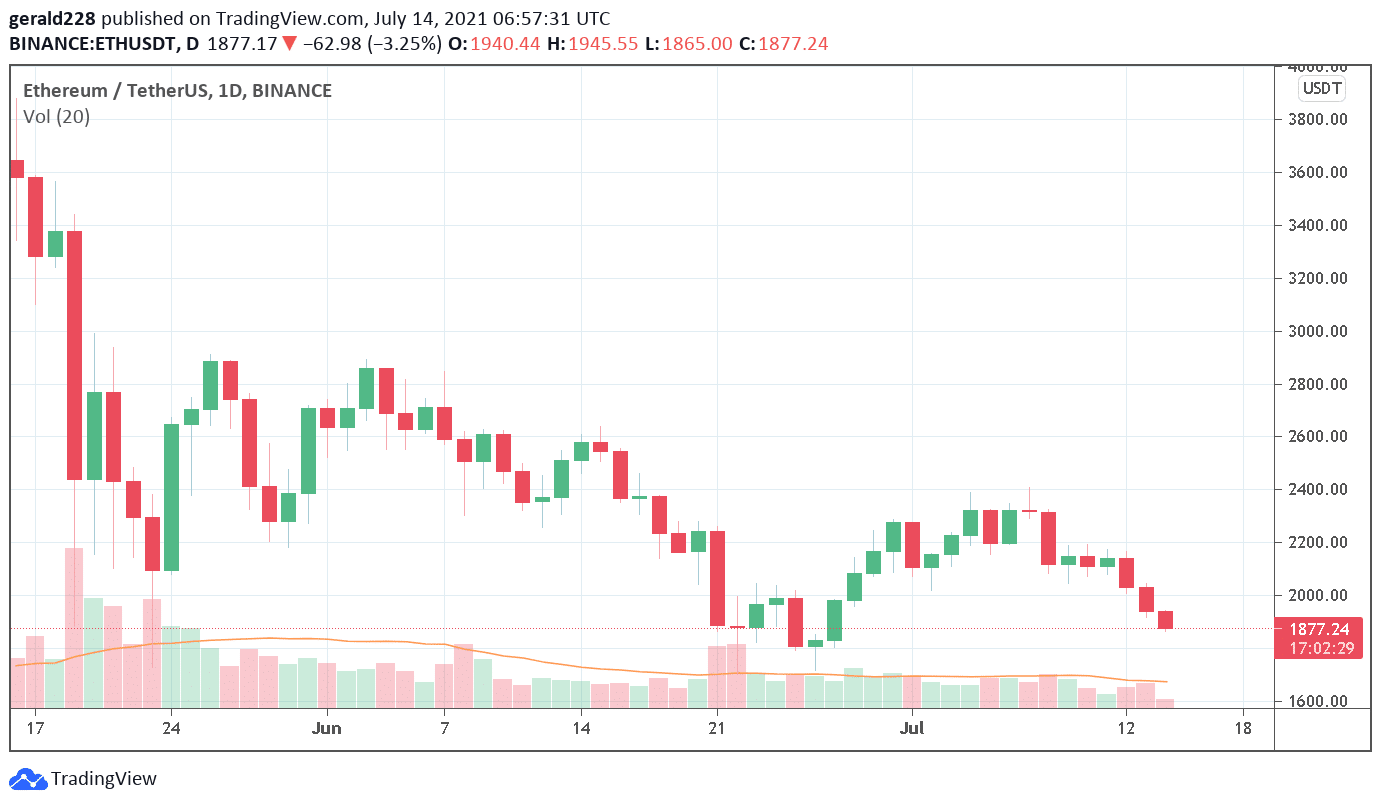 After having broken through a rising wedge pattern on July 8, Ethereum crashed by 14% so far. The sell off then continued to drag the price down with the support level of $2020 breached easily. An upswing was expected after the $1909 barrier was reached but this did materialize, and the price dropped below this level.
A bullish thesis would have meant that Ethereum would swing up to the £2300 level and face immediate resistance. If the bulls prevailed, a rise to the $2460, $2650 and $2900 levels would have been the logical next steps but this obviously did not occur. Looking for a good entry into the market? Try out these Top Cryptocurrency Brokers.
Instead, Ethereum is more likely to continue descending below the $1500 level. The drop below the $1900 level signifies a surge in selling pressure. The downside of $1700 is expected to be tested. The bearish thesis will further invalidate the above-mentioned bullish scenario and the price is expected to go below the $1500 mark to around $1450. This would mean a 70% crash from the all-time high of $4600 registered just over two months ago.
Long Term Expectations For ETH: Will An Upswing Start Soon?
With the bulls appearing to have deserted the market, the Ethereum price continues to face considerable pressure, at least in the short term. Predictions on a long-term basis are still very bullish on Ethereum with the price expected to reach the $3000 level by the end of September according to some wildly optimistic forecasts. The $4000 level is again mentioned by the end of the year.
However, a prolonged period of pain is expected for Ethereum HODLERS, especially those who went in at the top and are sitting on massive losses. Further selling pressure could continue to push the price further down but this should bounce back at some point with market sentiment.
Looking to buy or trade Ethereum now? Invest at eToro!
Capital at risk
Get the 5 most predictable currency pairs