The Bitcoin price continues the descent started over the past weeks and has now dropped below the psychologically significant $30k level. BTC dropped from the $30,754 to the $29,800 mark over the past 24 hours and is now down 3%. It seems that further lows are to be retested before the recovery starts.
The gloomy economic sentiment that is also clouding out other financial markets has also affected the crypto market on an overall level. Investors seem to be waiting out the current situation for their next move. The Bitcoin price is now down by around 55% from its all time high registered in early May, and looks to a further slump.
If you haven't yet bought some Bitcoin then it would be useful to have a look at this How To Buy Cryptocurrency Beginner's Guide.
Short Term Forecast For Bitcoin Price: A Drop To $27K?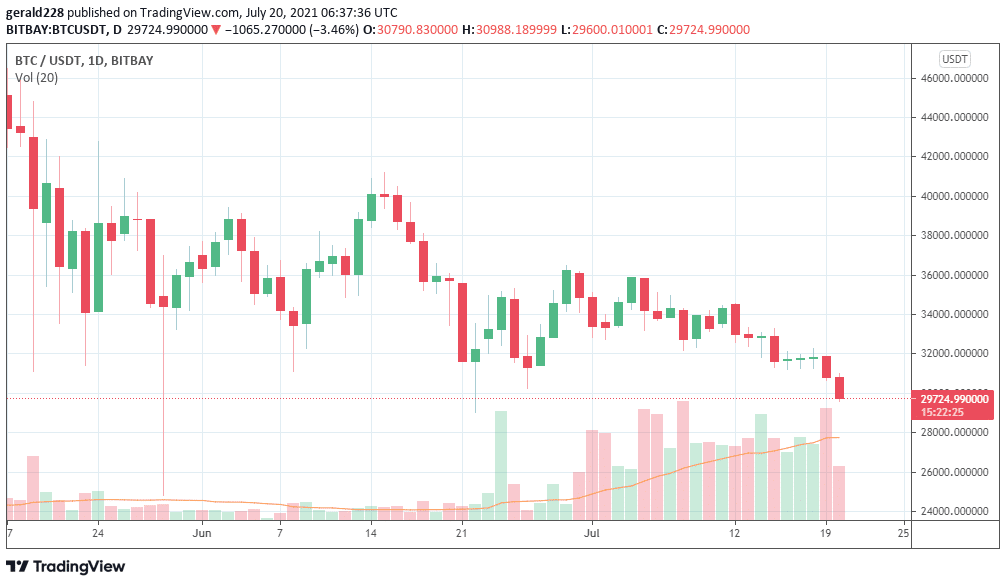 AS the slow decline of the Bitcoin price continues, many are wondering where the bottom is. It seems very possible that with bears controlling the market, the Bitcoin price will continue to descend before a bottom is found and a leg up will then begin.
With the Bitcoin price remaining below the 10-week SMA for almost 10 weeks, a reversal could be on the cards however. Downside momentum has slowed considerably so it does seem that a reversal is in the offing.
A bullish thesis would see the Bitcoin price recovering quickly to the $45000 level but there are a number of pitfalls ahead. If the price rallies and manages to close above the $33,300 mark then it would be a sign that the Bitcoin price has rallied and a reversal is on the cards.
However, a bearish thesis would invalidate all this and the price will crash to the $27,100 level where there is strong support. At this point, this looks like the most likely scenario although the next few hours should provide a definite indication of where the BTC price is going. Take a look at these Best CryptoCurrency Brokers if you're interested in buying some Bitcoin.
Long Term BTC Price Forecast: Testing New Lows Before Making a Recovery
If the Bitcoin price support level fails to hold, then we should expect a retracement to the $27.170 levels. This would represent a 12% loss from current prices but there is strong support at those levels.
For Bitcoin to start advancing forward, there needs to be a daily close above the $32,200 level for a number of days which would indicate that bulls are once again in control. The next targets would then be the $42,600 and the $45,500 levels. Overall, long term predictions are bullish for Bitcoin which is once again expected to reach the $65,000 level by year end.
Looking to buy or trade [coin name here]now? Invest at eToro!
Capital at risk
Get the 5 most predictable currency pairs