The journey to becoming a consistently profitable trader is no doubt a long and often difficult one, but by abiding by some simple yet overlooked principles, it is possible. We spoke with Andrew Colombi, a professional forex trader, who recently had the most profitable trade of his career to date, bringing in six-figure returns, to find out what traders can do to work toward consistent profitability.
As a professional forex trader, what advice would you give to new or novice traders?
In my time trading Forex, I can definitively say that risk management and discipline deserve the most attention. The key to my success is to "Cut losses quickly, let profits run". From the very beginning, you need to come to terms with the fact that you will have losing trades… many of them, often in a row. Once you accept this, trading becomes 10 times easier. Yes, it's frustrating, but it happens, and will always happen. Even to this day, I average more losing trades than winners, yet despite that, I've generated life-changing profits for nearly a decade.
Can you elaborate on what you mean by risk management and discipline?
Knowing that you'll always experience strings of losing trades, it is key to put measures in place that ensure that your winning trades are of much more value than your losing trades. So, you need to cut your losses quickly, and move on knowing that all you need is one good trade to make more money than you lose from a string of several losses.
The discipline aspect is to follow your trading system's risk management rules, without exception.
How important is choosing the right trading system?
After risk management and discipline, it's the next most important aspect. Most new traders jump into scalping and EAs because it's an adrenaline rush. When starting out, most traders are working a full or part time job, so they should be looking at a medium term swing or trend trading system that doesn't require 24/5 screen time.
Can you take us through the trade that gave you a six-figure return?
Ok, so this is how I traded AUDJPY. It was consolidating after a previous move up, so I was bullish and looking to get long, so I took the initial buy when price broke through the trendline, with a stop loss of about 35 pips. As price continued I added after every consolidation on breakouts, raising my stops on each trade. I never had a stop loss of more than 50 pips, and as you can see it was quite a chunky move, about 380+ pips before I closed all my positions.
But here's the important part. By adding to my position as price trended, on a 380 pip move, I was able to grab a total of 984 pips in around 3 weeks. I can't emphasise the significance of managing a trade this way. I can theoretically lose 10 times in a row and still have made good money because of this simple trade management method.
Trade 1: 380 pips
Trade 2: 310 pips
Trade 3: 195 pips
Trade 4: 99 pips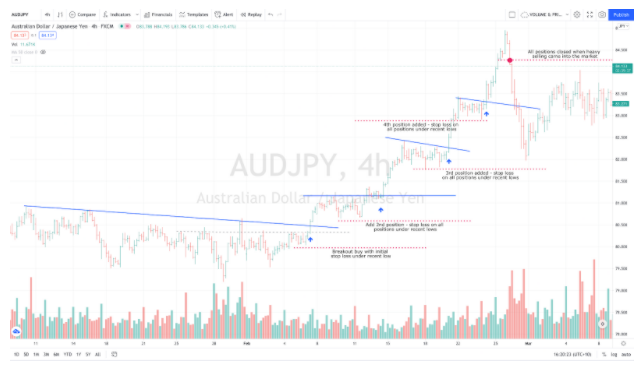 That's fairly impressive! Any final tips for new traders?
Look, it takes time, but you can see the power of cutting losses and adding to trades that continue in your favour. One thing I would add is your choice of broker. Do the research and find one that has a good reputation, the trading platforms and products you like, and low costs. Personally, I chose Moneta Markets because their ECN account has better spreads than pretty much any other broker around and I can withdraw profits quickly and easily. So I'd encourage new traders to check them out to see if they're a good fit.
The preceding article is from one of our external contributors. It does not represent the opinion of Benzinga and has not been edited.
© 2021 Benzinga.com. Benzinga does not provide investment advice. All rights reserved.