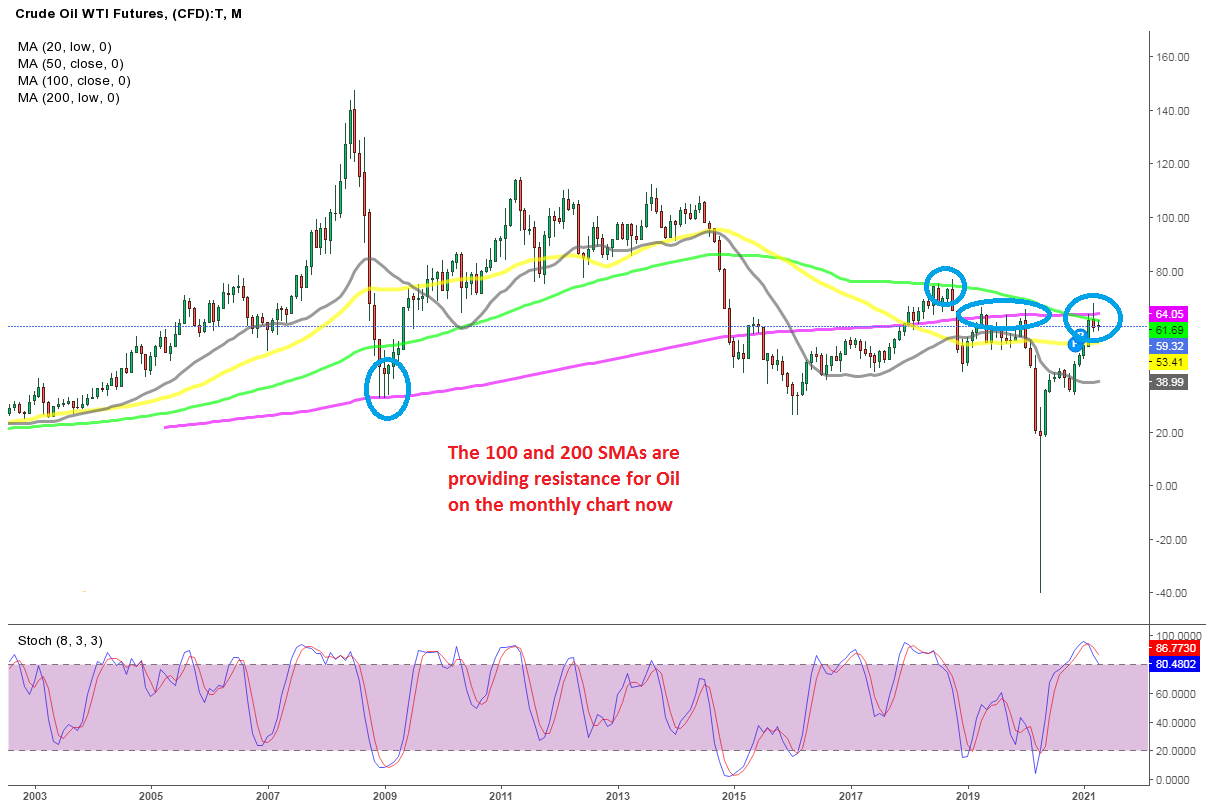 Crude Oil is at a decisive moment right now; it turned really bullish since April last year, following the crash in March-April, which sent the price of Oil down to $-37.50. Crude Oil formed a massive doji candlestick that month, which indicated a bullish reversal back then and climbed more than $100, reaching $68 at the beginning of March.
The 20 SMA (gray) did provide some resistance during September and October, but after the US elections the USD resumed the decline and Oil resumed the bullish trend, which picked up pace further. In the following two weeks though, Oil reversed down and lost more than $10 during that pullback, which was overdue after such a climb.
Some traders that the retreat, where we booked nearly 300 pips with a sell Oil signal, wasn't going to last and the bullish trend was going to resume seen, but Oil has been trading down here between $62 and $57.50 for nearly a month now, while both the fundamentals and the technicals don't't look too promising right now.
WTI was flat during most of the week and looks like it will stack up another doji star on the daily chart. It's normally one of the most-volatile assets but it's been stuck in a sub-$5 range since March 18. Some traders I know have been for many months, but this is the kind of chart that makes people on both sides of the trade worried.
US WTI crude Oil has made quite a climb for a year as we explained in our 2021 WTI Oil forecast, and is now well overbought, as the stochastic indicator shows. Besides that, the 100 sMA (green) and the 200 SMA (purple) which have been acting as support and resistance before turned into resistance in March, reversing the price down, despite the piercing above it, which did not last. Last month's candlestick closed as an upside-down hammer, which points to a bearish reversal in the long term now.
Besides the technicals, fundamentals are also weighing on Oil prices. Platts' survey on Friday showed OPEC+ is wavering in its compliance and that Iranian and Libyan barrels continue to increase (they're not subject to quotas). Russia has been particularly lax in compliance. We've got 2 mbpd coming back online through July and the WHO is warning about rising covid cases and deaths globally.
On the flipside, the US reopening is looking impressive in almost every way. Gasoline and travel demand is way ahead of where almost anyone thought it would be and will keep getting better. At these levels of production, global inventories are being drawn down.
So there are two trades (from my perspective):
Hang onto longs and hope the trend continues above the 200 SMA
Sell Oil, targeting the 50 SMA at around $50 and hope to buy back cheaper
If it's #2, the question is where to buy? The area around $52-54 looks attractive but a flush to $48 would be the real pain trade and a magnificent level to buy oil or oil companies. For the moment, Oil can go both ways, but I would like to see the scenario where it falls down to $50.